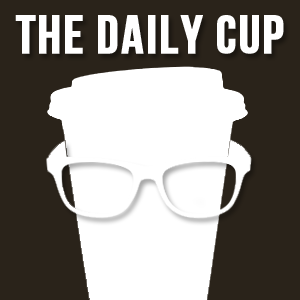 Good Morning on this cold brisk winters day!
Sun is shining but it is chilly out.

As you can see Cuppie and Lisa were having a great time last night at the Mayors Gala for the Joy of Art at the Clarington Library. Here Cuppie was hanging ou

t with Mayor Adrian Foster where else but the espresso bar.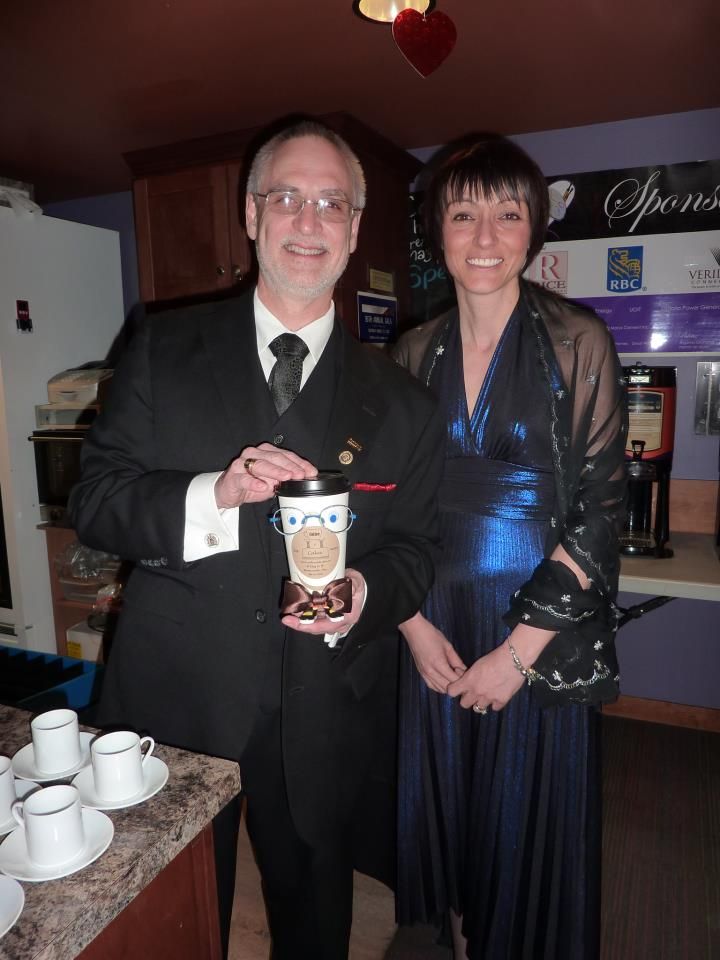 Cuppie got to dress up with his bow tie and enjoy the great live music and art on display. More pictures to come of Cuppie at the Gala shortly.Last night Mad Hatters kicked off at the Cafe and I was able to hook up with long time friend and fellow band mate Mike Qurrey from the 90's and we performed a few songs with the acoustic guitars. Look for us next Saturday as well. Thanks to everyone who came out and sang along.

REMINDER WE ARE CLOSED TOMORROW ON FAMILY DAY.

Soup of the day is Italian Wedding and the last day for the weekly special is the Pumpernickel Panini with Ham, Provolone and freshly sliced pear.
On This Day;
1965 - Comedienne Joan Rivers made her first guest appearances on " The Tonight Show starring Johnny Carson" on NBC-TV.
1996 - World chess champion Garry Kasparov beat the IBM supercomputer "Deep Blue" in Philadelphia, PA.
This Day in Music:
1966 - Brian Wilson began recording the Beach Boys' "Good Vibrations."
1976 - The Eagles released their "Greatest Hits."
1979 - The Clash opened its first U.S. tour in New York City.
1972 - Pink Floyd began a 4-night stand in London. During the stand they premiered "The Dark Side of the Moon" a full year before it was released.
Born on this day:
Dame Edna
1
934 -
Comedian
Larry the Cable Guy
1963 - Actor, comedian
Lou Diamond Phillips 1962 - Actor
Did you know:
- The Amazon Rainforest produces half the world's oxygen supply
- The movie 'Wayne's World' was filmed in two weeks
- A group of frogs is called an army
- A group of rhinos is called a crash
- A group of kangaroos is called a mob
Mystery Lyric:
And did they get you to trade

Your heroes for ghosts?

Hot ashes for trees?

Hot air for a cool breeze?

Cold comfort for change?

And did you exchange

A walk on part in the war

For a lead role in a cage?

(probably the last 3 lines are one of the greatest lyrics ever)
Yesterday's lyric was: Goodbye yellow brick road by Elton John.
Trivia is back tomorrow i will post on Family day.